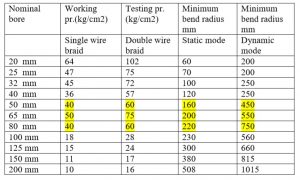 Special Hoses available on request:
Extra High Pressure
Smooth Bore
Jacketed hose Assembly
Application:
The main application of Stainless Steel Corrugated hose assemblies is where synthetic rubber hoses & plastic hoses do not work well i.e. for hot water, steam, condensate, gas, corrosive liquids, acids, ammonia, carbonic & tartaric acids, tannic acid, nitric acid, sulphuric acid, dye stuff, mercury etc.
In refineries: To convey oils; gasoline, LPG, benzol, petrol, alcohol, LSHS, liquid gases, steam, and other derivates
In Chemical Industry: For the changing, mixing & Conveyerlines
In power Plants: For cooling lines etc.
In Reactor Installation: For cooling lines etc.
In steel Plants: For supply of air and oxygen and for blast furnaces.
And everywhere: Where corrosion and vacuum are major problems.