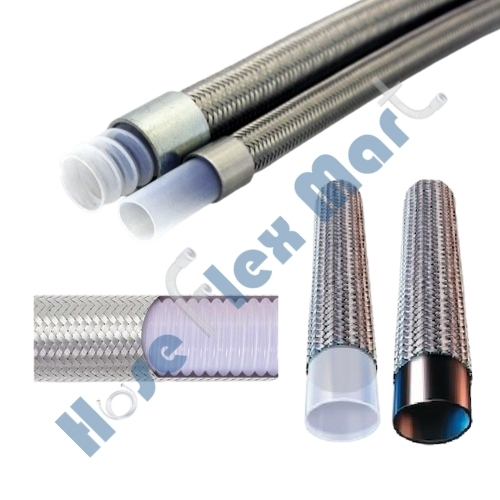 PTFE Hose - PTFE Convoluted Hose - PTFE Flexible Hose - PTFE Flexible Hose
Hose Flex Mart is a manufacturer of PTFE Hose, PTFE Hose Pipes, PTFE Convoluted Hose, Convoluted PTFE Braided Hose, PTFE Flexible Hose, PTFE Braided Hose manufacturers, suppliers, and exporters in Mumbai, Maharashtra, India. Since our origin, Hose Flex Mart has been an eminent name in assembling PTFE Hoses with strung fittings, likewise broadly known as Teflon Hoses, for the most requesting applications. Our treated steel interlaced PTFE hose with male or female strung fittings is utilized by clients in dairy, food handling, and pharma enterprises.
Hose flex Mart offers PTFE Hose in a variety of configurations. PTFE hose inner core is offered in the smoothbore, convoluted, smooth inner with a convoluted outer, conductive (Carbon black added) anti-static, and non-conductive virgin. Type 304 or 316 stainless steel wire braid is the standard reinforcement with other specialty materials available.
PTFE Hose Manufacturers in India
PTFE is a definitive hose material. It has remarkable protection from synthetic compounds including liquor fills like methanol, ethanol, E85, and leaded powers, for example, race gas. PTFE hose has ~zero~ penetration and won't transmit fumes like elastic fuel hose, so it is protected to use in restricted spaces like a vehicle's trunk. These PTFE hoses are likewise evaluated for high-pressure use.
Hose Flex Mart PTFE  hose pipes, PTFE Convoluted Hose, PTFE Hose Assemblies & PPTFE Flexible Hose offer exceptional properties which incorporate superb synthetic opposition, high-temperature obstruction (up to 260°C, 500°F), and a frictionless, simply clean surface. These properties decide the sorts of use regions where PTFE hose can give the most ideal conceivable hose item for the work. As experts of PTFE Hose Assemblies, we can offer a thorough scope of PTFE hoses containing an assortment of both Smoothbore and Convoluted hoses with a combination of grades, covers, and end terminations.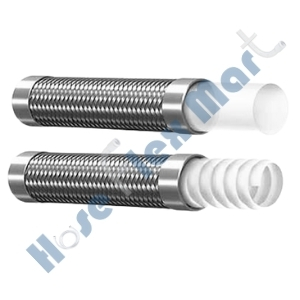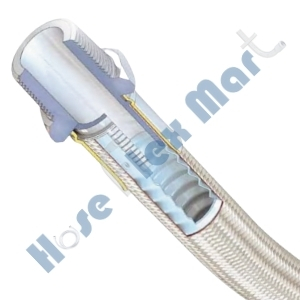 Applications of PTFE Hose
PTFE hoses and assemblies offer unique properties which include excellent chemical resistance, high-temperature resistance (up to 260°C, 500°F), and a frictionless, easy-clean surface and below are the applications:
 Food handling and production.
 Fluids associated with high temperatures
 Petrochem & specialist chemical transferee
 Hazardous chemical transfer
 Beverage service, handling, and production
 Conveyance of cosmetic solutions
 Fluids associated with pharmaceutical and bio-medical transfer and production
 Production of dairy products
 Compensation of vibrations and pipework misalignment within a production line