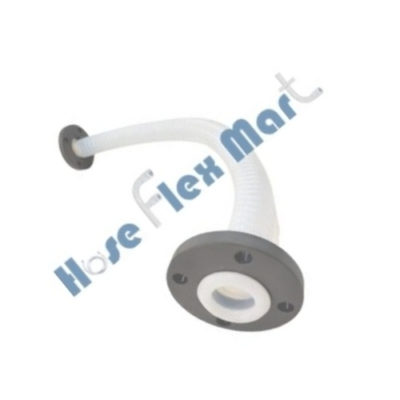 Teflon Hose - Teflon Hose Pipes
Hose Flex Mart is a manufacturer of  Teflon Hose in India. As specialists of Teflon Hose Pipe manufacturer, we offer a wide range of Teflon hoses comprising the variety of both Smoothbore and Convoluted hoses with an assortment of grades, covers & end terminations.
We are recognized as one of the leading manufacturer and supplier of best quality array of Teflon Hoses. Our product range is available in both extruded and corrugated form with Stainless Steel wire over braid. Fibre Glass Heat Insulating cover is also available. We offered these products in sizes from 6mm bore to75mm bore & in long lengths and are suitable for the temperature. Our product range is pressure and vacuum tight and is also available in smaller sizes the permissible operating pressure reaches 300Kg/cm2. Offered products are designed for service with chlorine ,black ,steam, acids ,chemicals ,hot adhesives, hydraulic fluids, etc. and are suitably used in chemical plants, paper plants ,air conditioning, steam conveying lines , tyre moulds ,textile machinery ,gas filling, power hose etc.
Teflon Hose Manufacturers in India