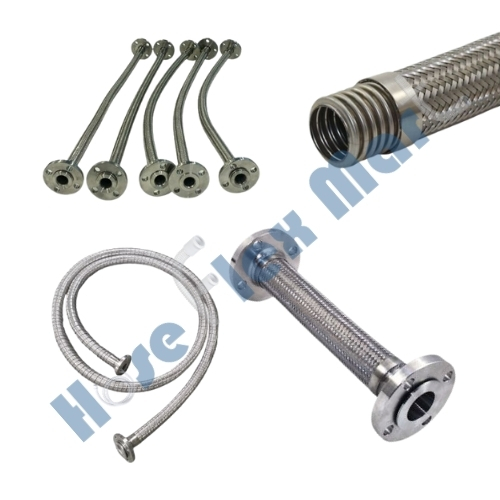 SS Flexible Hose Pipe - SS Braided Hose Pipe - SS Corrugated Hose - Stainless Steel Hose
Hose Flex Mart is a manufacturer of SS Hose, SS Flexible Hose Pipe, SS Corrugated Hose, Stainless Steel Corrugated Flexible Hose Pipe. Hose Flex Mart is one of the most eminent ss hose pipe makers, makers, and exporters in Mumbai, Maharashtra, India. We produce, stock, and supply Stainless Steel Flexible Hose in 304, 316, and 321 grades with single and double braid. Our Stainless-Steel Flexible Hoses are planned and produced to extremely excellent norms. Our hoses are especially valued for consistency in Mechanical strength, Pressure Rating, and Dimensional exactness. We at Hose Flex Mart can make an incentive for our customers with quality items and cutthroat costs for hardened steel hoses.
Our Stainless steel hoses are uniquely intended to accomplish a few destinations in the pipework plan. These incorporate, ingestion or vibration, work under vacuum, handle temperature limits, stifle inflexible line commotion communicated, oblige responding and flexing development, work successfully under high tensions, and change or right for misalignment.
SS Hose Manufacturers in India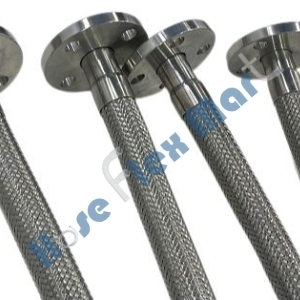 Stainless Steel Hose Design
Stainless Steel Hose is exceptionally expected to achieve a couple of objections in the pipework plan. These consolidate, osmosis or vibration, work under vacuum, handle temperature limits, cover unyielding line noise sent, oblige reacting and flexing improvement, work satisfactorily under high squeezing elements, and change or appropriate for misalignment. Treated steel furrowed hose is a comprehensively helpful current hose and is available in different degrees of tempered steel including 304, 316, 321 Grades.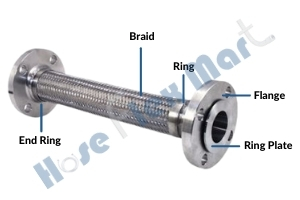 Corrugation Design
The layered hose is made from round and hollow, flimsy walled tube-shaped from the moving strip and welded at the crease. Intrigued into this cylinder is a folded annular profile. Annular folding means every convolution is opposite to the middle line of the hose giving an unmistakable benefit of development with every groove being generally free of development from one another. At the point when the grooves are firmly divided, the hose is alluded to as a 'shut pitch' hose. On the other hand, when the foldings are all the more broadly divided, the hose is alluded to as 'open pitch'.
Braid Design
Stainless steel wire braid on the hose assembly provides the hose with a higher internal pressure capability by acting as a restraint against hose elongation and acts to dampen vibration without significant loss of flexibility. The second layer of braid may be used to increase pressure rating. The test pressure is not to be exceeded or it may incur permanent corrugation deformation.The third layer of braid used to increase pressure rating.
Advantages of Flexible Stainless Steel Hose
Appropriate for a wide temperature range.
Impervious to warm extension and compression in the funneling framework.
Higher-strength.
Fire and dampness obstruction.
Erosion safe, longer life.
High scraped areas, entrance, and harm are safe.
The adaptable choice for unbending funneling in troublesome areas.
Technical Data & Pressure Rating for Stainless Steel Flexible Hose Pipes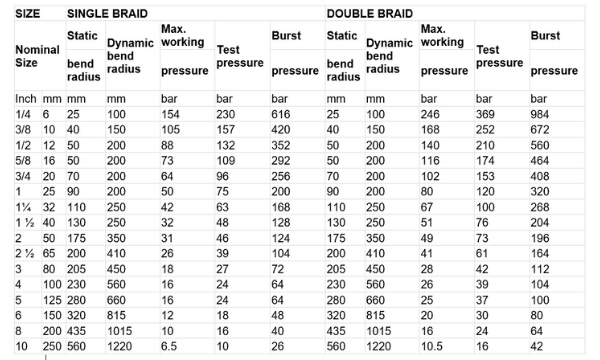 Applications of Stainless Steel Corrugated Flexible Braided Hose Pipe
Average applications for hardened steel adaptable/meshed hose pipes incorporate every synthetic industry, iron and steel assembling, oil and gas industry, paper and board assembling, and all interaction and fluid dealing with businesses.
Oil and Gas Refineries
Power Plants
Steel Plants
Mash and Paper Mills
Atomic Installations
Manure Industry
Drug Industry
Substance Industry
Modern Boilers