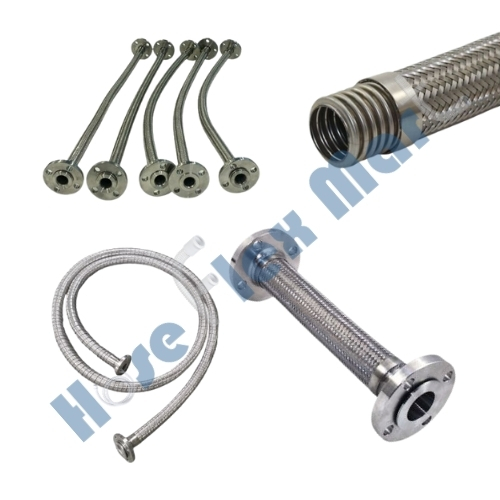 SS Flexible Hose Pipe - SS Braided Hose Pipe - SS Corrugated Hose - Stainless Steel Hose
Hose Flex Mart is a manufacturer of SS Hose, SS Flexible Hose Pipe, SS Corrugated Hose, Stainless Steel Corrugated Flexible Hose Pipe. Hose Flex Mart is one of the most renowned ss hose pipe manufacturers, producers, and exporters in Mumbai, Maharashtra, India. We manufacture, stock & supply Stainless Steel Flexible Hose in 304, 316 & 321 grades with single and double braid. Our Stainless-Steel Flexible Hoses are designed and manufactured to very high-quality standards. Our hoses are particularly appreciated for consistency in Mechanical strength, Pressure Rating, and Dimensional accuracy. We at Hose Flex Mart can create value for our clients with quality products and competitive prices for stainless steel hoses.
Our Stainless steel hoses are specially designed to achieve several objectives in pipework design. These include, absorption or vibration, operate under vacuum, handle temperature extremes, suppress rigid pipe noise transmitted, accommodate reciprocating and flexing movement, operate effectively under high pressures and adjust or correct for misalignment.
SS Hose Manufacturers in India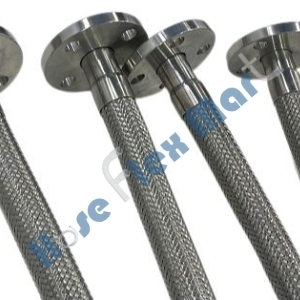 Stainless Steel Hose Design
Stainless Steel Hose is uniquely intended to accomplish a few destinations in the pipework plan. These incorporate, assimilation or vibration, work under vacuum, handle temperature limits, smother inflexible line clamor sent, oblige responding and flexing development, work adequately under high pressing factors, and change or right for misalignment. Treated steel ridged hose is a broadly useful modern hose and is accessible in various levels of tempered steel including 304, 316, 321 Grades.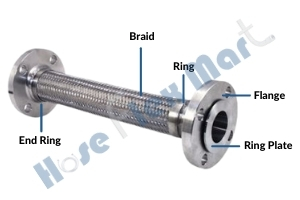 Corrugation Design
The layered hose is made from round and hollow, flimsy walled tube-shaped from the moving strip and welded at the crease. Intrigued into this cylinder is a folded annular profile. Annular folding means every convolution is opposite to the middle line of the hose giving an unmistakable benefit of development with every groove being generally free of development from one another. At the point when the grooves are firmly divided, the hose is alluded to as a 'shut pitch' hose. On the other hand, when the foldings are all the more broadly divided, the hose is alluded to as 'open pitch'.
Braid Design
Stainless steel wire braid on the hose assembly provides the hose with a higher internal pressure capability by acting as a restraint against hose elongation and acts to dampen vibration without significant loss of flexibility. The second layer of braid may be used to increase pressure rating. The test pressure is not to be exceeded or it may incur permanent corrugation deformation.The third layer of braid used to increase pressure rating.
Advantages of Flexible Stainless Steel Hose
Suitable for a wide temperature range.
Resistant to thermal expansion & contraction in the piping system.
Higher-strength.
Fire and moisture resistance.
Corrosion-resistant, longer life.
High abrasion, penetration, and damage are resistant.
Flexible option for rigid piping in difficult locations.
Technical Data & Pressure Rating for Stainless Steel Flexible Hose Pipes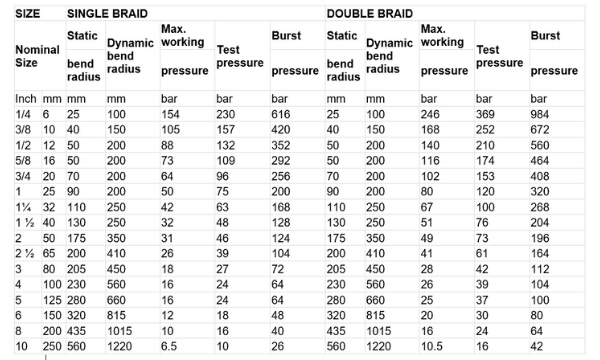 Applications of Stainless Steel Corrugated Flexible Braided Hose Pipe
Typical applications for stainless steel flexible/braided hose pipes include all chemical industries, iron and steel manufacturing, oil and gas industry, paper and board manufacturing, and all process and liquid handling industries.
Oil and Gas Refineries
Power Plants
Steel Plants
Pulp & Paper Mills
Nuclear Installations
Fertilizer Industry
Pharmaceutical Industry
Chemical Industry
Industrial Boilers
.