Oxygen Gas Pigtail Hose Pipe
HoseFlexMart is a Manufacturer of Oxygen Hose / Pigtail Hose, Supplier of Oxygen Hose / Pigtail Hose, Trader of Oxyge Hose / Pigtail Hose, Exporter of Oxygen Hose / Pigtail Hose in Mumbai, Maharashtra, India.
Oxygen Hose Pipe or Pigtail Hose Pipe is used for medical purposes, nitrogen gas, Oxygen Gas. These hoses have different end connections as per client use.
Hoseflexmart leads the industry in providing industrial hoses, equipment, and accessories such as High-Pressure Pigtail Hoses for Oxygen Hoses. All hoses are fully oxygen compatible and oxygen safe.
Core: Sintered Tube of polytetrafluoroethylene (PTFE).
Reinforcement: Single Braid of 304 series of stainless steel wire.
Applications:  PTFE Hose has an excellent temperature characteristic both in high and low temperature, Excellent chemical resistance, non-contamination properties, low coefficient of friction and resists deterioration. Therefore the hose is used generally in applications where all or one of the above properties is the main criteria.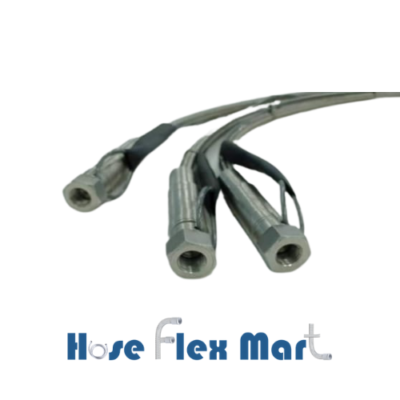 MEDICAL OXYGEN TRANSFERED PIGTAIL TEFLON HOSE SIZE 1/4″ AND LENGTH 1 METER AND AS PER CLIENT REQUIREMENTS WITH BOTH END 1/4″ NPT FEMALE OR 1/4″ BSP FIX FEMALE , AND USING SEFFATY WIRE WROP FOR SEFFATY PURPOSE , IT IS USED FOR TRANFER MEDICAL OXYGEN , NITROGEN AND ALSO USED IN PHARMA AND CHEMICAL INDUSTRIES ETC.
TEFLON ARE USE DIFFERENT WORKING PRESSURE , 180 BAR , 200 BAR , 250 BAR , 300 BAR AND 350 BAR ETC.
TEFLON PIGTAIL HOSE WITH SINGLE WIRE BRAID HOSE WORKING PRESSURE 200 BAR AND DOUBLE WIRE BRAIDED WORING PRESSURE 260 BAR  , PTFE GAS HOSE WITH DOUBLE WIRE BRAID WORKING PRESSURE 300 BAR ETC
END CONNECTION
PIGTAIL PTFE HOSE END CONNECTION ARE 1/4″ BSP FEMALE SWIVEL NUT , 1/4″ BSP FIX FEMALE  NUT AND NPT FEMALE AND MOC SS 304 AND SS 316 ETC.